Day 03: Silverdale - Elma
Friday, September 9, 2005
stats:
74.27 @ 14.9 = 4:58'41, max: 37.1, trip total: 225.6
weather:
cool, sunny, some sprinkles (and rain for some) with heavy winds (head winds of course)
eats:
4 toaster waffles, mini chocolate donuts, double bacon cheese burger, fries, vanilla shake, tequila shot, 4 negra modelos, chicken enchiladas
sleep:
Elna RV Park, $3.00 p/p
thoughts:
Free breakfast- well you can't complain if it's free, or can you? I had no complaints as I polished off 4 toaster waffles at 6:30 in the morning. It was hard to tell if the day ahead was going to be as hilly as the previous day or smoother- so instead of guessing the best plan of action was to fuel up and be ready for anything.
Rain in the forecast had all of us on watch as the large gray clouds rolled in - much like the fog did the day before. It was gray and looked colder than it really was. I had the iPod charged and ready to play through the day; ready to give me a boost when the rain soaked me through.
All that anticipation of rain and yet we were optimistic and carefree. I mean, it's not like we had to do this. And we had all day to ride. So off we were. Well, after one more bathroom break. Ok, then we left.
The head wind was in full effect- steady unless it gusted right at us. It was the tone of the day. We were going to get pushed by the elements and we were going to push back. We put some muscle into it- rising and falling over the hills as though we had 5 miles left. It was clearly apparent the hills weren't going away and the wind was here to stay. But it wasn't raining and miles came relatively easy.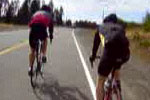 video clip: the start »
One break at the Market Deli-- lots of laughs and pre-packaged foods. You could see the sun trying to break out.
Another break at the Espresso Hut and we were pumping out the miles at a good pace. After that we had a long stretch to Shelton- another small town with a couple places to stop and re-group / re-fuel.
One of the very first Dairy Queens built was in Shelton, Washington, as is evidence from the article posted inside. Naturally, it was the place of choice for lunch. Man, we were talking about that bacon cheese burger for miles. And when we tore into it - it was the best damn burger we ever had. The milkshake wasn't bad either. Hell, it was heaven. And no guilt attached.
The rest of the day chased us with large black clouds and sprinkles just to let us know not to slow down. With that weather pattern also came some strong head winds. Not ideal to run away from a pursuing storm. But I felt strong and that's a nice realization- that after three days of good riding- I could keep pushing.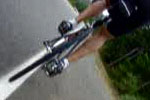 video clip: white line »
Cruising into Elma we finally beat the line of rain that stayed on our heels all day long. Other than a few sprinkles we escaped getting dumped on. Not all of us were so lucky- but by the end of the day it seemed everyone had dried out.
First item of business as we came into town was to look for a celebratory drink- a cold beer or maybe a margarita. After considering our options (since there were so many in a town with a population of 3000), we settled on the place that would welcome us the most-- a mexican restaurant. And having had mexican food the night before we were also looking to clear that negative experience. It worked.
We started with a few beers and some tequila shots. I think there were some chips as well- salsa too. After that everything seemed to taste great. The rest of the team came in shortly thereafter and we ended up taking over a large round table with 9 of us (and Ada, a 17 month old).
Then it was the dreaded task of finding the campground as it was getting dark- so we quickly headed out in search of our home for the night. It was close enough that we were there in minutes and like a small army we took over our quadrant, laying down 5 or 6 tents and equipment all over the place. Within minutes we were all set up and cleaning up for the day.
Now it's nearly midnight... looking ahead we have a full day tomorrow and then a slightly shorter ride the following day into Portland. That's when we take a day off and.. and do what? I guess rest. Aren't we "resting" all day?