Day 07: Portland - Junction City
Tuesday, September 13, 2005
stats:
119.4 @ 17.3 = 6:51'10, max: 42.9, trip total: 510.5
weather:
54° - 76°, sunny with a nice tailwind for part of the day
eats:
pop-tarts, croissanwich, tator tots, chicken select, fries, m&m mcflurry, cookies, roast beef sandwich, fries
sleep:
Guest House Inn, $27.25 p/p
thoughts:
Were we fresh coming out of Portland? Or was there another reason we were doing 16mph uphill? There might have been a tailwind, and we might have been ready to go- a day off does that I guess. We climbed 600 - 800 to get out of the city with ease- as if we were rolling down the river. The temperature was great, the sky was clearing the morning fog and the promise of a wide open day after the climb was toying with our expectations. It was a great start to a great day.
We started right in town from Ian and Kate's house. We cruised through the city from bike lane to bike lane- Portland has to be one of the bike-friendliest cities anywhere. And with the amount of bike commuters we mixed into the fold and where able to gather some insight on how to get over the bridge to west side of town (downtown). Easy enough. Really each bridge had more than one walkway.
Anyway, we flowed with the morning rush and easily got to the other side when the climbing started. The "west hills" of Portland looked like terrible mountains on the elevation chart but once we took 'em on there was no stopping us. They were actually moderate incline so we kept a good pace up them.
Psst-psst-psst. "Damn IT!" For some of us the start was better than for others. A flat at mile 8 or so slowed us down a bit- but we were able to get that fixed in no time.
The miles surely added up faster than any previous day. It was good to get some miles under our belt. And we were still figuring out the total mileage for the day as we went. Not knowing the final stop in terms of where we would be staying kept us guessing. As well as not knowing how much we had in us to push forward.
By the time we stopped for breakfast it was about 10:30am but we had done about 30 miles which also was more than our usually pace. Looking back a couple days we had something like 18 miles done by noon. So we were in much better shape to tackle a long day.
The next stop was lunch - sure it was about 3pm, but after about 70 miles it didn't really matter what time it was- hunger was setting in for everyone. And that's when we found out that dinner might still be about another 40+ miles away. No time to waste- it was already like 4pm when we got back on the road. Of course that was after another flat. Aaron really wasn't happy with his bike at this point. Two for one day. And I haven't been counting but he's had maybe 5 on this trip already. We switched out his tire to see if that would help. We'll see.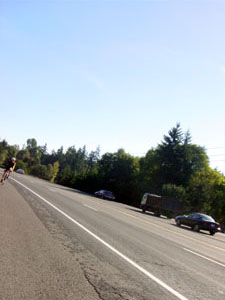 Having Bill in the drivers seat was so natural- all the experience made the day that much smoother. The stops and the turns all planned out- one step ahead of the riders so we could focus just that much more on the ride. Sure we didn't want to pass up our turns but for the most part it was taken care of.
I felt strong all throughout - and enjoyed the great landscape. Rolling to flat - a really quick ride. A good amount of paceline with smooth transitions. It was the first day we could really stretch our legs and go for a 20 - 25 mile section at a time without having to look for directions or stop.
There really wasn't any monumental stories today- it was smooth. The ride went fast. And we were cruising into the heart of Oregon.
As the miles added up we grew eager to get to our destination. After about 120 miles we were finally there, ready to get off our bikes for sure- but also in good shape. The day went well and it was time to celebrate a bit. It was a long day though and now it was already after 7pm. We weren't able to find a campground and the police didn't want us to spend the night at the city park, which by the way, was the perfect spot. So motel it was. Not the best option since we were ready to fit some camping in. But the choices were limited.
There was some motel that had a "basement room with 17 beds used to make movies". Not sure who was first in the group to veto that option but everyone seemed to agree in short order. And the "boat ramp you can camp on" was never found. Probably for the best- some good sleep is in store for us.