Day 01:
Vancouver - Deception Pass State Park
Wednesday, September 7, 2005
stats:
72.33 @ 16.0 = 4:30'49, max: 33.4, trip total: 72.3
weather:
Sunny, 49° - 78°
eats:
banana, chocolate mini donuts, king size snickers, potato skins, red dog 18oz, peanut butter and jelly sandwich, lasagna
sleep:
Deception Pass State Park, $2.25 p/p
thoughts:
Wake up at 6am. Get packed up, and ready to ride. I was up early, beat the alarm by about 10 minutes even though I had little sleep. The excitement was ON and there were plenty of first day things to iron out. So I got ready and was out the door at 6:30 to pack up the van. Camping equipment in the "car top carriers" - two bike boxes, food on the passenger side (for easy access during road side stops), tools on the left side, duffel bags (not used during the day) in the back, and backpacks in the center seat (to use throughout the day). First aid kit, power converter, cooler, spare tire, and a few other odds and ends. Now the wait.
Well, the wait was quick- everyone was on the ball and we were off by 7:30 or so. It was cool and sunny- perfect riding weather. And even though it was 49° when I woke up it must have been at least 55° when we started riding.
So we head out for the US border only a short distance away. Wheels rolling smoothly- easing into the adventure. No rush.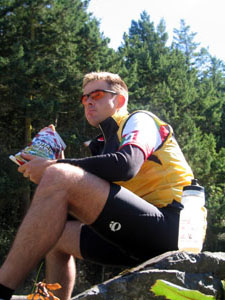 We get to the border and get the required questioning- and if you were wondering - yes, you should always have at least a birth certificate with you - a passport is best and a drivers license means nothing because anyone can get one of those even if they're an illegal. Luckily Ian and Jason both got through without too much of a hassle even though all they had was a license.
The terrain was mostly flat to slightly rolling. Nice easy warm up with a good deal of cross winds. But it was amazing- looking out and seeing huge snow capped mountains across lush green meadows with a crisp sky- and being able to suck in that fresh air. I think I kept repeating myself out loud, "this is awesome" - and it really was.
Because of the driving schedule Tim and I headed off to the end of the route so we could get picked up and drive the last section again. Hard to explain but a few of us were able to ride the whole route by shuttling back and forth the last 25 miles or so. In any case we were off making good time. The day only got better. The terrain had some good size hills along the coast, all of which made it more entertaining. The views were hard to capture since many of them were splinters through the trees and vistas as we were on long descents (and who wants to stop then!).
Chuckanut Road was the best section of the day- a tree lined coastal road winding in and out and up and down. It was smooth riding with gentle slopes and crisp views. You would look out over the sound and see mountains in the distance on islands as you rode through tunnels of trees to the next clearing.
I tried to keep watch of what I ate and what I drank. Not much on either account and I knew it would be easy to forget on such a nice day without any heat to worry about. So I made sure I got some donuts to balance out my diet. Ah, the "on-the-road" diet was in full effect. Besides dinner it was all just one big mess. That included a nice tall beer with about 15 miles to ride. This was vacation after all. Plus I needed to fill up one of my water bottles anyway.
We get into camp to scout out the best site- drive the whole darn camp but decide on a large site near the showers (50¢ per 3 minutes- sold by tokens). It's a nice spot.
Then we headed out to dinner - I was starving and a huge lasagna plate was all I could think of. It was probably just as good as the riding although I'm not sure.