We made it!
From Canada to Mexico - down the west coast, for the most part. With some stretches on the interior of Oregon and through the southern California desert - just for kicks.
Updates were made as we traveled on our journey adding text entries, pix, and videos. As with previous journals, read at your own risk-- language and content is spontaneous and at times gramatically correct. But this will give you a taste of what we went through. Overall it was about 1950 miles from border to border. All in 22 days of biking. Plus 2 rest days (one in Portland and one in San Fran).
Online Journals
Eric's Thoughts and Images
Follow the day by day journal by choosing a day from the pull-down menu above.
Other Journals
Aarons Journal
Melba's Blogger
Tim's Updates


Team x10
The full team is made up of 10 riders from DC, Utah, Washington, and Oregon. Three of us went the whole way and the others varied in distance. Check out all the riders.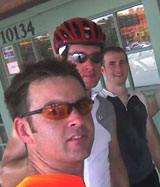 Right to left: Eric, Aaron, and Tim on a training ride - Eric sporting the glow in the dark team jersey.